Counting down
It's 10.12pm, in 1hr and 58mins the challenge will be over. 
My stomach is rumbling. I've eaten well today, more than I have on any other day during the challenge, but for some reason, today has been tough. 
But the fact is, that tomorrow (or 12:01am) I can get up, open up my cupboard and choose from a selection of options, without a care in the world. Another fact - throughout this week, I've been surrounded by food. If at any point I felt ill, or simply that I'd had enough I could have easily walked a few feet and created a full on meal, or opened my wallet and buy whatever the heck I wanted, I could have even opened up uber eats and had something delivered to my door. 
That is a vastly different situation than those living below the poverty line on a day to day basis. 
At the start of this challenge I said that it was a chance to take stock of the privilege that surrounds us. That surrounds me. 
I had the ability to plan out my week, to budget well, and to share resources with those at Tearfund who were also doing the challenge. With that, we had a heap of variety at lunch time, and a solid meal for a mere 90c. It also meant I didn't have to even think about what to make for 4 out of 5 of those lunches.
Sharing resources (money, time and imagination) makes a huge difference.  
But this challenge isn't actually about trying to get the most out of your $2.85, it's about the work that is going on, through local partners to make systemic change occur.
We do this challenge not to step into the lives of those who live below, but to challenge our perspective, to challenge the priveledge that surrounds us on the day-to-day, and hopefully have some decents chats about that throughout the week. 
The money raised through this challenge is where the change comes. Partners, on the ground are doing amazing work in their local communities, and that's what this is all about. It's about supporting work that is going on, supporting the power of together in both Self-Help Groups and Farming Co-Operatives.  It's about raising funds so that these partners are well supported, so that these projects can continue, so that everyday people can use their skills, money, brains and imagination to bring about their own change. It's not about me having a rumbling tummy.
I am proud to work for this organisation, and if doing some crazy challenges along the way helps promote the work of our partners then hey, sign me up for next year.
Peace//Love
It begins || Round 4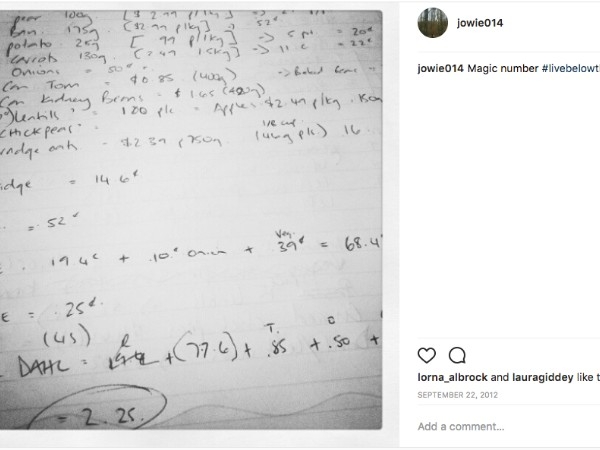 Tomorrow Live Below the Line New Zealand starts.
2012 was the first time I did this challenge - I've just spent some time reading and reflecting back on previous years I've been involved (check out https://www.tumblr.com/blog/jowie014 and scroll through if you're keen).
I've been fairly low key about the lead up this year, maybe coz I feel I know the ropes, what to expect, that I know I'll be eating porridge everyday, and that coffee will only been in my dreams. But I also know that every dollar counts. Literally. For the next 5 days I'll be eating on $2.85 a day, and I know that that will be a stretch, that will be isolating at times (do you know how much socialisation revolves around food?!), that my brain will be tired, my body will be lacking energy, I'll lack focus.
But I'll also be part of a team doing this, part of a crew of people around NZ that say you know what, why not? Why not do something that is a bit out of the norm, and that becomes a conversation point, a platform to discuss global issues, and put some cash towards elevating some of them. So friends, will you help a sister out and put some cash towards it too?
Like I said, every dollar counts. Literally.
I'm doing LBL because I believe in the Power of Together.
Live below the line - a chance to take stock of the privilege that surrounds us, and the actions that we can take to impact the world for the better. 
This is the forth time I'll be taking part, and I'm stoked that this year I'll be part of a crew, all taking on the challenge. Will you join me? 
I'm inspired by the work of Tearfund and wanted to support them by raising money as part of my five-day challenge. Honestly, hit me up for a yarn about the impacting goodness that these projects are having on the ground. 
Please help me help them by giving whatever you can using the 'Donate' button. The more people that know about LBL, the greater the impact, so please also spread the word by sharing my page with your friends and family.
Thank you in advance for your generosity, it means a lot! Together, we're helping enable vulnerable families around the world to help themselves out of poverty.

Peace//Love

Thank you to my Sponsors
Dominic Stowers
Brian & Jenny Caston
Joanne Wieland
George Wieland
Jo Wieland
Anonymous
Rachel J
Ella
Chelsea Bews
Hannah Richardson
Beth Mossop
Michelle Chamberlin
Anna
Dougal Cowan
Mcclean Whanau
Anonymous